I have been around horses all my life and my very first horse was an Anglo Arab mare. But the very first encounter with a Purebred Arabian horse was a real gift to me. A Prince from Saudi Arabia was visiting with my family, I was a 17 years old girl and he told me he would gift me with an Arabian mare, and shortly after I received Aisha. I could never register her in the Swiss Stud Book as back then the horses arriving from Saudi Arabian were still not recognized by any Stud Book. Even though she was never recognized as a Purebred Arabian, I still decided to breed her and had three foals out of her, that had been registered as a Partbred horses.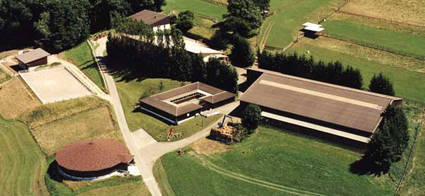 The very first Arabians I purchased came from Egypt, nearly 30 years ago. This was the beginning of Hanaya Stud and my breeding program.
Horses always meant a lot to me. They're a very important part of my life. Even my first pony had some Arabian blood in. My horses are like part of my family. Most of my free time is dedicated to them.
The decision to breed Straight Egyptians is not related to any particular bloodline. It's mainly a matter of taste, and the Egyptian horses are my favorite.
One of my first mares was Kodwa. She was bred by El Zaahra Stud in Egypt. She was a very famous mare at that time. She was sired by Shadwan and out of Alifa. She had a very old and important bloodline; a treasure for any Straight Egyptian breeder. Another mare that left a mark in my breeding program is Hebat Misr. She was sired by Adeeb and out of the mare Basant, from the famous Farida line. And last but not least, and probably the most famous horse I have, is 218 Elf Layla Walayla. I purchased her in Babolna when she was a young mare. At that time she had a little colt at foot, that later on turned into a very significant show and breeding stallion, first in Brazil and then in the United States: El Nabila B. It was love at first sight with her. She captured my heart and still does every time I look at her.
I still have three daughters of Hebat Misr and one of them is sired by a son of Kodwa, which I still own. Elf, this is the way everybody calls her, blessed me this year with three babies by embryo transfer. The first one is Hanaya Elissar and she is sired by Nader El Jamal. When they called me from Frank Spoenle's stables to tell me that Elf had a filly, I could not believe it, I was really thrilled. They said she was a foal of exceptional quality. I could not wait, so the first chance I had I flew up to Germany to see her. And she is truly a filly of extreme quality; a real blessing for me. Shortly after, the second embryo baby came. This time a colt, Hanaya Kareem, sired by my own stallion El Khaled, a son of Ansata Sinan -a nice colt with a lot of attitude. I was very happy about both of them, and then the last one came, another very exotic filly, again by El Khaled. She embodies all the qualities you see in her sire and her mother. She's a very special filly and her name is Hanay Habibtee.
One of the last and most important additions was El Khaled. I've been searching for a long time for a nice Ansata Sinan stallion to use on my mares, which most of them carry the blood of The Minstril. It took me a while but finally I found this young two year old colt, sired by Ansata Sinan. I purchased him more than a year ago, showed him successfully on some European shows and bred my best mare to him 218 Elf Layla Walayla. This cross fulfilled all my expectations.
The goal of every breeder is to breed the perfect Arabian horse. For me one of the most important things my horse must have is a loving and caring character. They need to be friendly to the people and have a trusty relationship with the people around them.
A horse that will always have a special place in my heart is Kodwa. I saw her for the first time at El Zaahra with Dr. Al Marsafi. It was like a lightning to me. As I first saw her I realized she had to be mine. But Dr. Al Marsafi did not want to sell her. He knew what a special mare she was. She was only two years old, but stunning. I fell in love with her and right away. It took me a while but finally I could convince Dr. Al Marsafi to sell Kodwa. She lived the rest of her life with me. She was a true companion. She died at the age of 24 and waited until I was there with her before she closed her eyes and left me. Among the horses I still have with me, Elf is for sure the most special one. Besides being a great and successful show horse, Elf is also a great broodmare. I will treasure her two daughters born in 2010 and I know they will be the future of my breeding program. At the age of 20, Elf is still the powerful and charismatic mare that won so much in Europe a few years ago. She is a great horse, a once in a lifetime mare. Many breeders of straight Egyptian horses wanted to buy her the last few years, but I knew it would have not been the same without her, and for this I kept her. And now I am very glad I made that decision.
Every time you lose a horse, no matter if it's a small baby or a lifetime companion, it's a terrible moment for me. For many people the best moments are the victories on shows. I also enjoy it and like to see my horses being successful, but for me the best moments is to see a new baby being born, look at it and realize that it fulfills all the expectations and hopes you had in that particular cross. The long wait is over and the result is exactly like you dreamed about. This should be the best moment in the life of a breeder.
The first show I judged was so long ago that I don't even remember where it was. But what I for sure remember is how shows used to be a few years ago and how much things have changed. Years ago the shows were an opportunity to meet friends and spend time together. It looked more like a big family. It was a lot less professional than it is today and you often could see owners showing their own horses. Nowadays shows got a lot more professional and especially they are spread all over the world. Horses are shown in Europe, the Middle East, United States… it seems like there are no boundaries anymore. For some aspects the world of shows today has evolved into a real business, but I miss a bit that "family" atmosphere of a few years ago.
I will never forget the Polish mare Pilarka, owned by Janow Podlanski Stud. You always would get goosbumps as she entered the show ring. Power, charisma and feminity all in one mare. She was truly amazing. More recently I really loved Pianissima and Al Adeed Al Shaqab, but it is more and more difficult lately to pick only some names, as the quality of horses at the shows today has increased so much.
My only advice is to approach this world moved by true passion for the horse and not by the interest of doing business. This is the only way to truly enjoy these amazing horses that should be our life companions and not a means for business.